Clean & Fast solutions for FTTx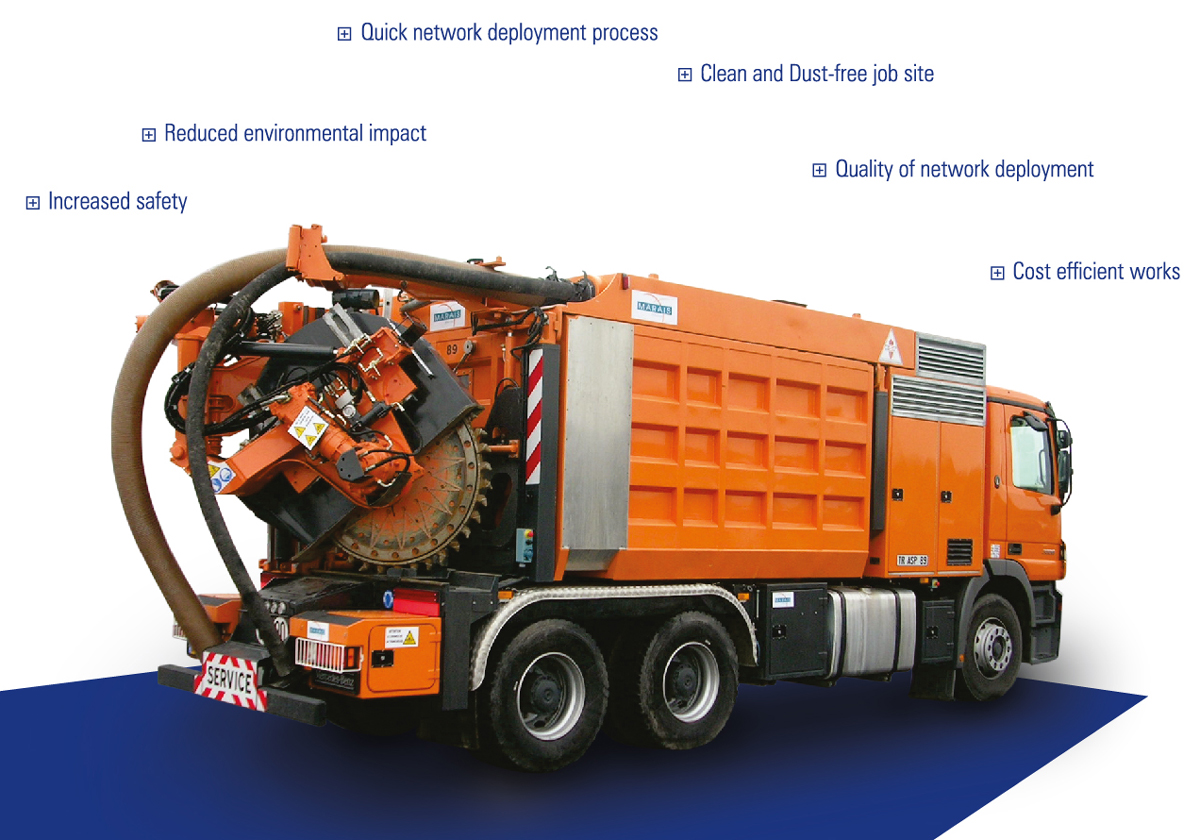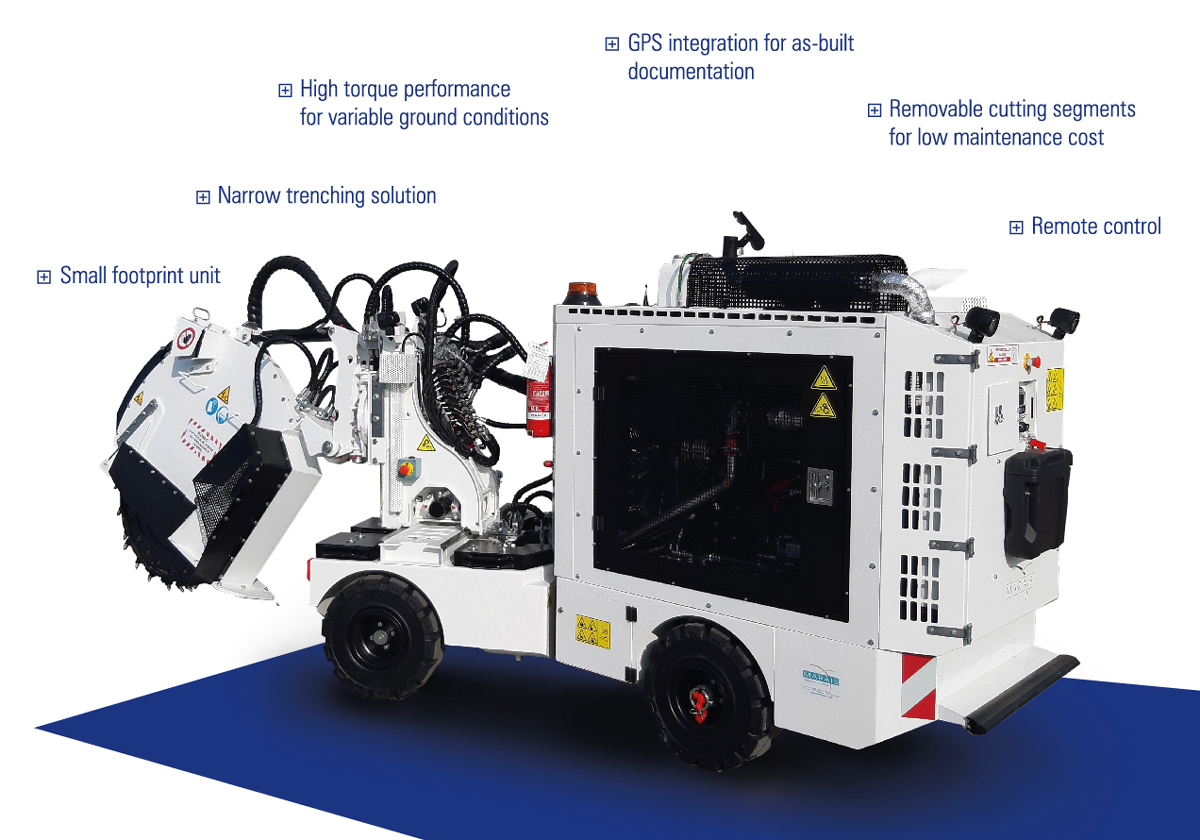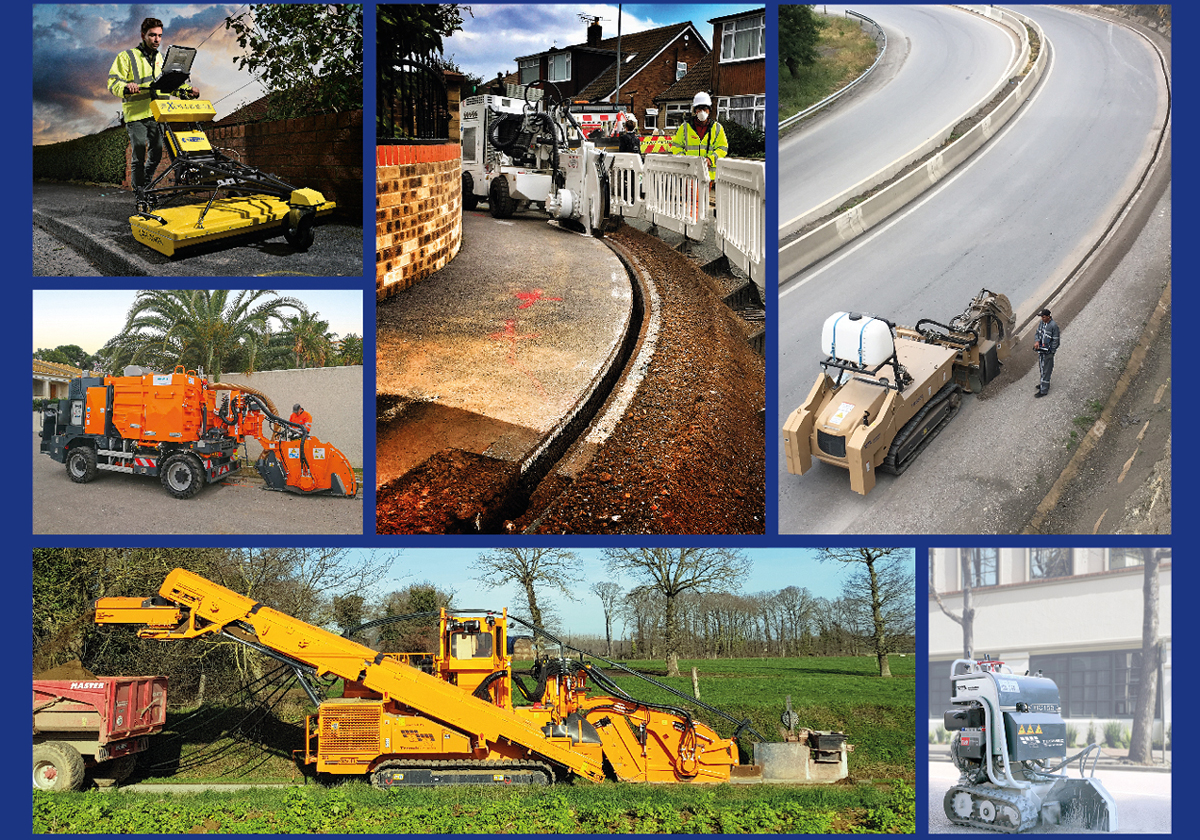 The increasing use of fiber optics and new generation networks such as 5G in the telecom sector has boosted the development of new cable laying technologies with low environmental impact, reduced open-pit excavation, realization costs, and increased job site safety. Heavy vehicle traffic and construction sites in the middle of the roadway, sidewalks, or medians are inconvenient and have high socio-economic costs for local governments.
Tesmec has developed highly technologically trenching solutions capable of meeting all requirements regarding mini-trenching procedures.
Tesmec innovative "CLEAN & FAST" working methodologies, recognized by the most important international contractors, will have huge development opportunities thanks to 5G & FTTx technology. The integrated solutions for accurate and high-quality automatic cable laying jobsite consist of a range of machine for microtrenching with several relevant benefits.
CLEANFAST: trench and dust suction for the deployment of FTTx
An efficient utilization of Optic and Electric networks in urban and motorway environments thanks to micro trenching operations with Cleanfast, the only easily usable road vehicle equipped with an axially driven powerful trenching wheel and able to simultaneously vacuum out and collect the excavated material.
Quick network deployment process and restoration of the road
Clean and Dust-free job site
Increased safety and reduced environmental impact
Quality of network deployment
Cost efficient works
> More info about Cleanfast here
CITYCLEANFAST: the tiny and smart solution
A brand-new model, Marais patent - the ideal solution to deploy fiber optic networks in urban and narrow environment. Thanks to its vacuum system, the equipment performances clean microtrenches for the deployment of FTTH, CCTV, smart grid and electric networks.
Cleanliness of trenches and job site
Vehicle traffic not interrupted during the works
Limited disturbance to residents and increased safety of the work site
Preservation of the road foundations
Quick restoration of the road and small footprint
Reduction in building costs
> More info about Citycleanfast here
SIDECUT: narrow trenching innovation
Side Cut trenching innovation is the only true way to achieve a new network superfast broadband build. Revolution of these units to reduce the traditional trenching operations of an excavating machine that would be used on a much larger trench cut opening with major disruption and closures.
Small footprint unit for trenching in restricted areas
Reduced spec on both width and depth of the required trench line
Variable offset for straight and radius cuts to reduce reinstatement materials and cost
Vertical trench wall cuts on raised curb & carriageway levels
High torque performance for variable ground conditions
Remote controller for all-round vision of marked underground services
Removable cutting segments for optimum production with lower maintenance costs
GPS integration for as-built documentation
Designed for easy transportation into small urban areas