Easy pipe tracking for Tesmec GPR EXPLORER 2.0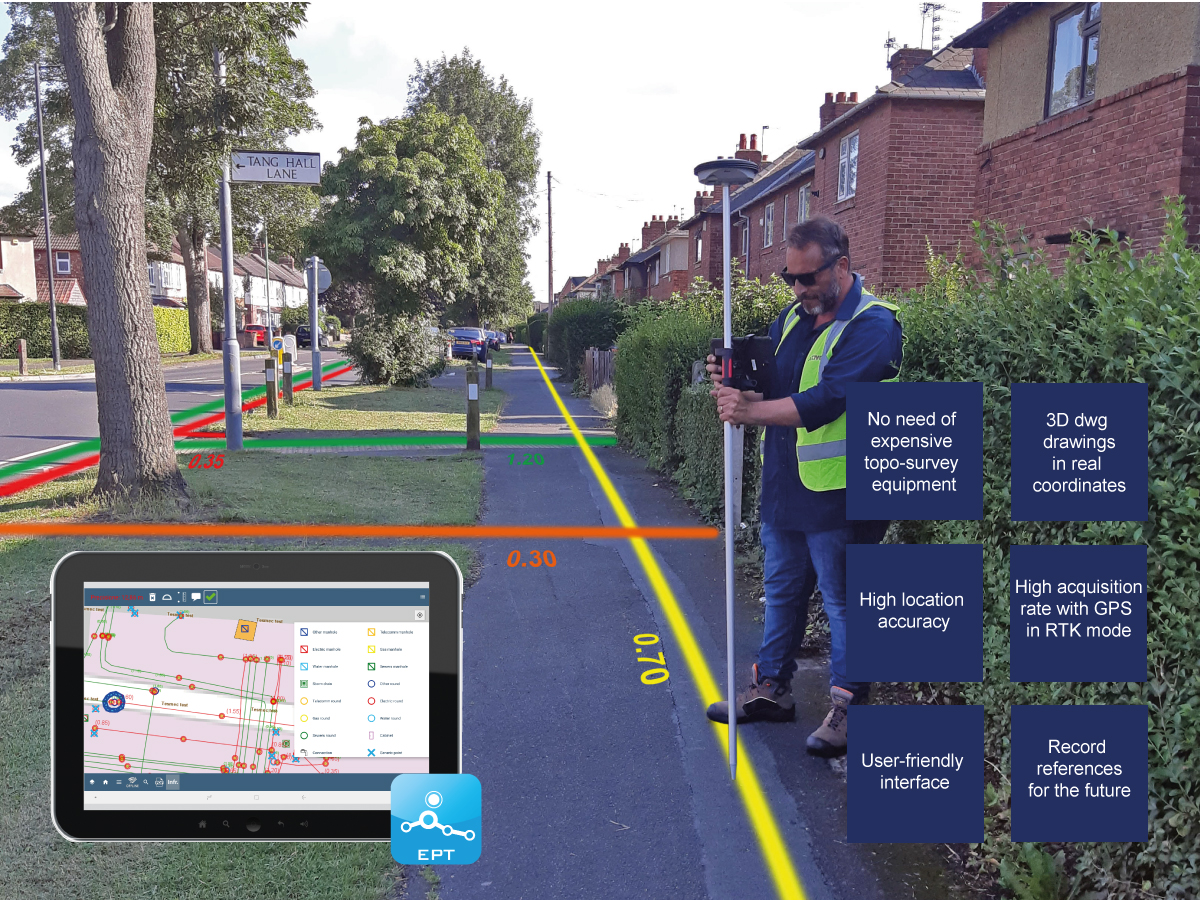 Highest accuracy
Increased safety
No needs of expensive topo-survey equipment
All companies involved in trenching or in excavation operations for laying pipes or cables need to be sure about the position and depth of the existing underground infrastructure before digging. Nowadays, there are 2 ways to execute a utility detection survey by GPR equipment, in conformity with International Standards (BSI PAS 128:2014 – UNI/PDR 26.1:2017):
DIRECT MARKING ON SITE
ACQUISITION ON SITE + POST PROCESSING

Low production rate (< 300 lm/day)
No record references for the future
Low accuracy with high density of underground utilities
No drawings, only Road Marks
Needs Topo Survey Team for record

High acquisition rate with GPS in RTK configuration (> 2000 lm/day)
High location accuracy (± 2 cm)
3D dwg drawings in real coordinates
Record references for the future
The benefit of the direct marking on site is the immediate result on the road, easy to read by trencher/digger operators. Anyway, its short-term duration, low accuracy level in job site crowded of utilities such as high-density populated areas, and the absence of record reference for the future, do not make it the safest and smartest solution.
The EPT (Easy Pipe Tracking), the high precision Android App for Tesmec GPR Explorer 2.0, allows users to complete the cycle of direct marking on site after the post-processing phase with the highest accuracy of the results. All outputs are stored in one "Cloud Database" and can be downloaded 24/7. The user-friendly interface of the EPT App, allows to easily transfer the 3D dwg output results on the road, with ± 2 cm accuracy (in RTK mode), without any surveyor team. The EPT can also be used to pick-point manholes, sidewalks and a long list of items on site, in order to create a "base map" for the GPR data post-processing, with ± 2 cm accuracy (in RTK mode) without using expensive topo-survey equipment.