EVO Series - The next level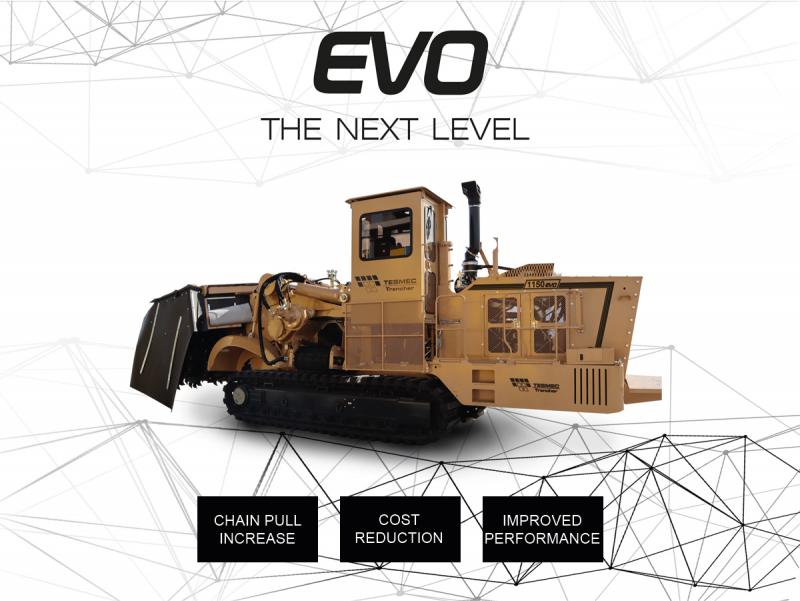 up to 70% higher productivity in hard rock
up to 60% digging cost reduction
The "EVO" generation of all the most popular TESMEC trenchers and surface miners can trench hard and abrasive rock with productivity and cost efficiency unmatched, combined with a significant fuel consumption reduction.
All trenchers have their limit, in terms of rock hardness, beyond which the teeth are unable to fracture and break-out the rock; in these conditions the teeth just scratch the rock face, resulting in a huge productivity drop. The approach to move this limit further is to increase the digging chain-pull in order to have higher break-out force of the teeth.
In case of abrasive rock the teeth consumption is the main operating cost factor, the only way to increase the teeth life and get a real cost saving is to reduce the digging chain-speed.
"EVO" machines combine higher chain-pull and lower chain-speed, with a range of 5 selectable chain speeds. These new features are possible thanks to improved flywheels gearboxes, new hydraulic components and the latest release of the TrenchTronic 5.0 for full digital control of the automatic digging function.
Compared to the previous generation of machines the greater improvement of digging performance is applicable in the toughest conditions: hard solid rock and deep trenching.
"EVO" technology is available on our best sellers Chainsaw and Rock Hawg.