InterParts: the integrated platform for spare parts management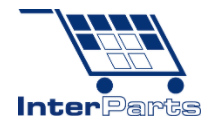 The new "InterParts" system (Interactive Spare Parts) was introduced to satisfy the need to provide customers with complete information to repair machines and to identify spare parts.
InterParts is the integrated platform that helps the manufacturers and dealers/customers in the communication about spare parts. It's a multilanguage system (available languages: EN, FR, ES, DE), e-commerce style, with price lists always updated, pictures and instructions. The user-friendly interface allows the customer to get familiar in the shortest time. The offer generation process is faster, and the dealer can now answer immediately to his customers, minimizing the possibility of mistake.
The portal contains also Use and Maintenance Manuals, with complete and up to date info.
After the signing up and the disclaimer signature, the user can browse the website, adding spare parts to the cart. The service offered is of the highest standard: the manufacturer receives directly from the job site the request of spare parts and processes it immediately.
Inter-Parts is the fast and easy way to get spare parts for trenching equipment and Gallmacs.