Re.M - Machine and fleet remote monitoring for railway equipment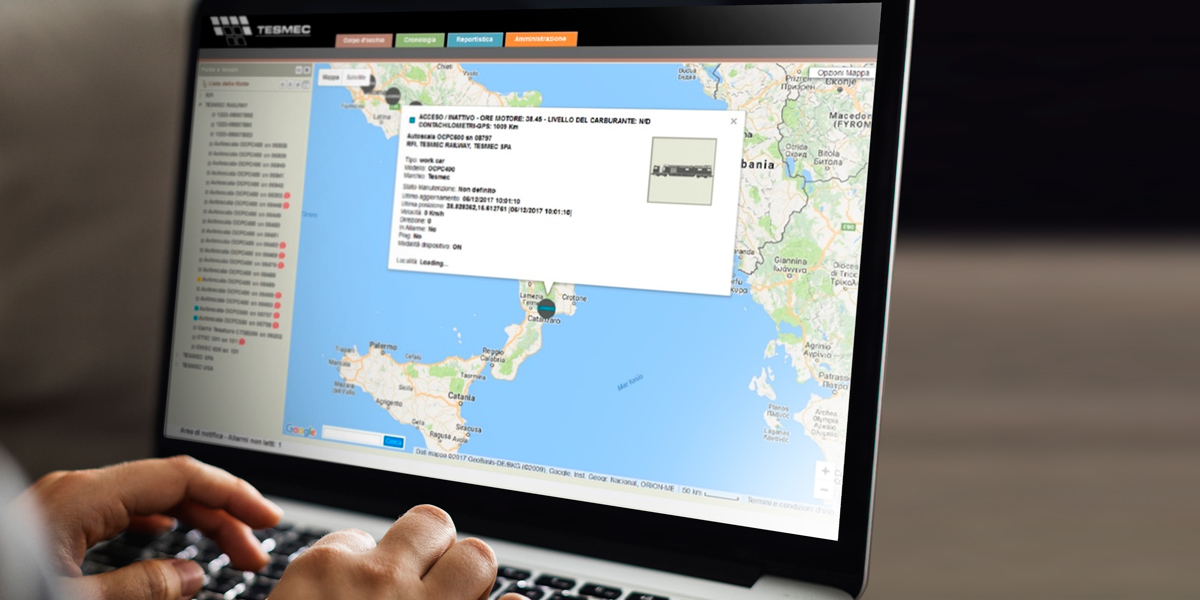 With the aim to improve each machine's performance and support its customers, Tesmec developed a remote-control module to monitor the parameters of the railway vehicles.
The Re.M (Remote Monitoring system) provides operating, maintenance and troubleshooting information allowing 24/7 monitoring of fleets of vehicles, optimization of maintenance operations and high efficiency in service activity. It means that in the event of a fault, technicians or managers can start the troubleshooting process and decide what type of crew and what parts will be most likely required, before heading out for the machine.
Thanks to a robust and reliable electronic unit with high performance microprocessor and a compact GPS antenna/GSM/HSPA +, the system displays on a map the location of the vehicle allowing the remote monitoring of the fleet operating parameters:
Machine data remote monitoring (engine hours, mileage, fuel consumption..)
Geolocation of the vehicles
Diagnostics (operating parameters, active alarms, environmental conditions, conditions of use, etc.)
Operating conditions, working cycles, itineraries/chronology Any of the available information can be accessed from a remote PC anywhere at any time, with the sole need of an Internet connection.
BENEFITS
- Reduction of testing hours
- Optimization of the project
- The preventive maintenance operations reduces the "cost linked to the fault" (lack of service, lack of production)
- Reduction of the "cost of the fault" (replacement of components, damages).
- Monitor machine health, saving costly engine or transmission repairs due to operator error and inattention.
- Increase Productivity and Profitability
- Time efficiency thanks to constant interaction with users
 - Increase overall efficiency with visibility of equipment productivity, location and history
- Get accurate productivity measurements to help improving each machine's performance.
- All the information about your fleet or about a single machine and operators.
- Management and execution of working operation during an emergency condition
- Decreasing human error and inaccuracy
- Management of data concerning engine hours, mileage in order to reduce emission and fuel consumption
- User friendly digital panel which guarantees automatic control, accuracy, precision and safety.