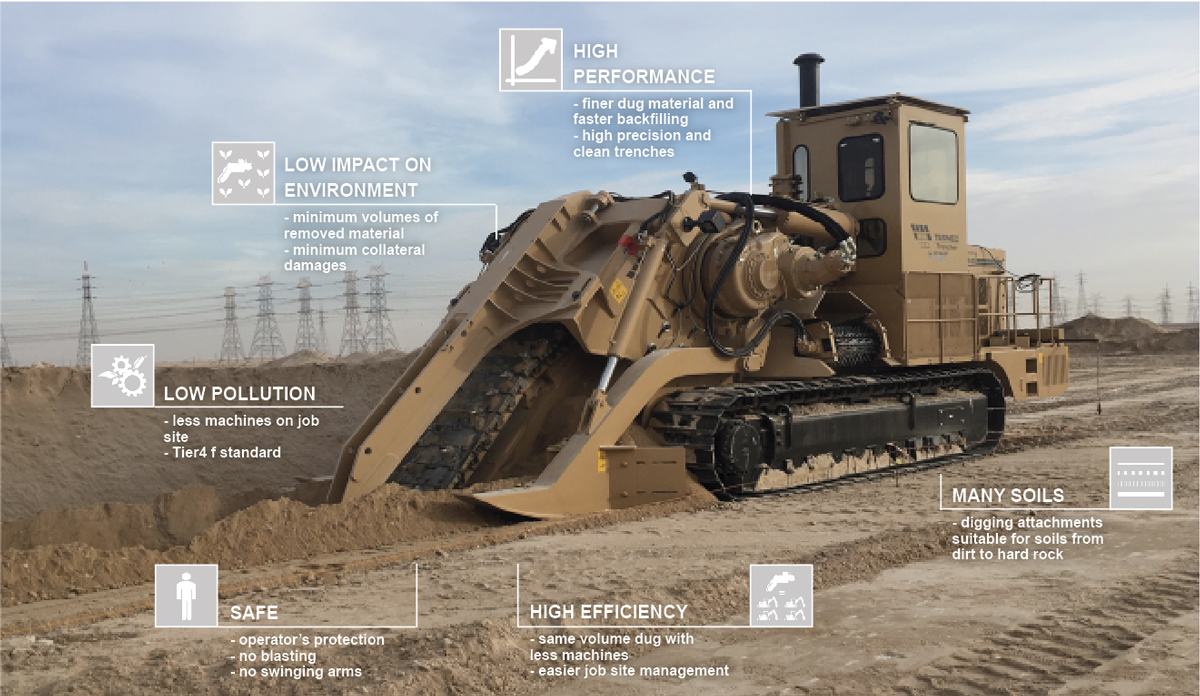 Trenching is the most cost-efficient solution for most applications.
The main advantages of this technology are:
One large trencher (90-150 ton class) can substitute up to 15 excavators (20-25 ton class). Also, trenchers cut the minimum required ditch width which equates to less cubic meters being dug for each linear meter of production, reducing the excavation area by at least 30% (Trencher vs Excavator).
More production with fewer machines and operators results in a lower cost of logistics and makes it easier to manage the worksite.
The cost of purchasing a trencher versus the cost of a fleet of excavators is similar, however, the digging cost per linear meter when using rock breakers is about 55-60 % higher than that of a trencher. Trenchers also have a lower operating, labor, and maintenance costs when compared to excavators. Trenchers excavates the rock into smaller pieces which means, there is no longer a need for large loaders and dump trucks, a smaller quantity of back-fill material is needed, and it saves in transportation costs.
Fewer machines mean less CO2 emissions, and by breaking up the rock into smaller pieces as the trencher excavates it, it becomes a usable backfill material which leads to less wasted material. In retrospect, the cost of bedding & backfilling with an excavator will be 35-65% higher than that of a trencher. Trenchers also produce less dust, vibration, and noise than using explosives so they can be potentially used in areas near bridges, roads, railways, and populated areas in general.
Bedding and Backfilling advantages
A vertical wall trench requires less backfill material than a "V" wall excavated trench; making it easier and less expensive to backfill. It is also easier to get good compaction of backfill material which reduces the risk of erosion and surface collapse.
The use of explosives is subject to increasing regulations and restrictions, but trenchers can be used everywhere. Last but not least: less crew on the jobsite means less risks of injury or incident.