TrenchIntel - The automatic machine guidance system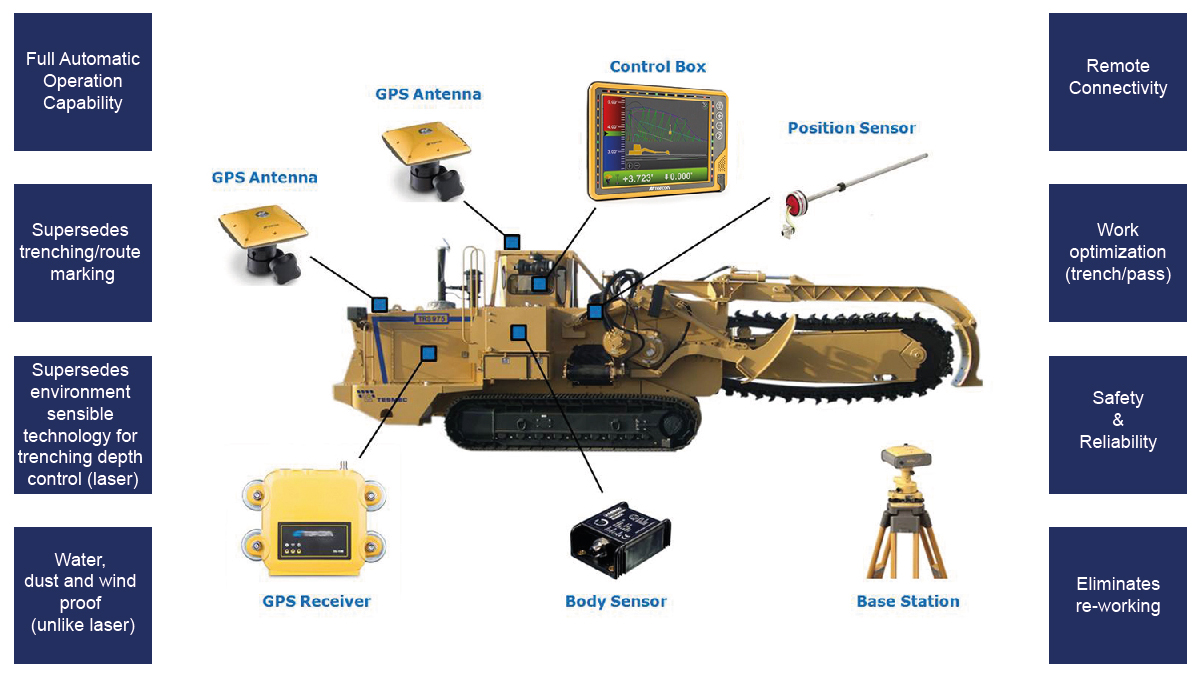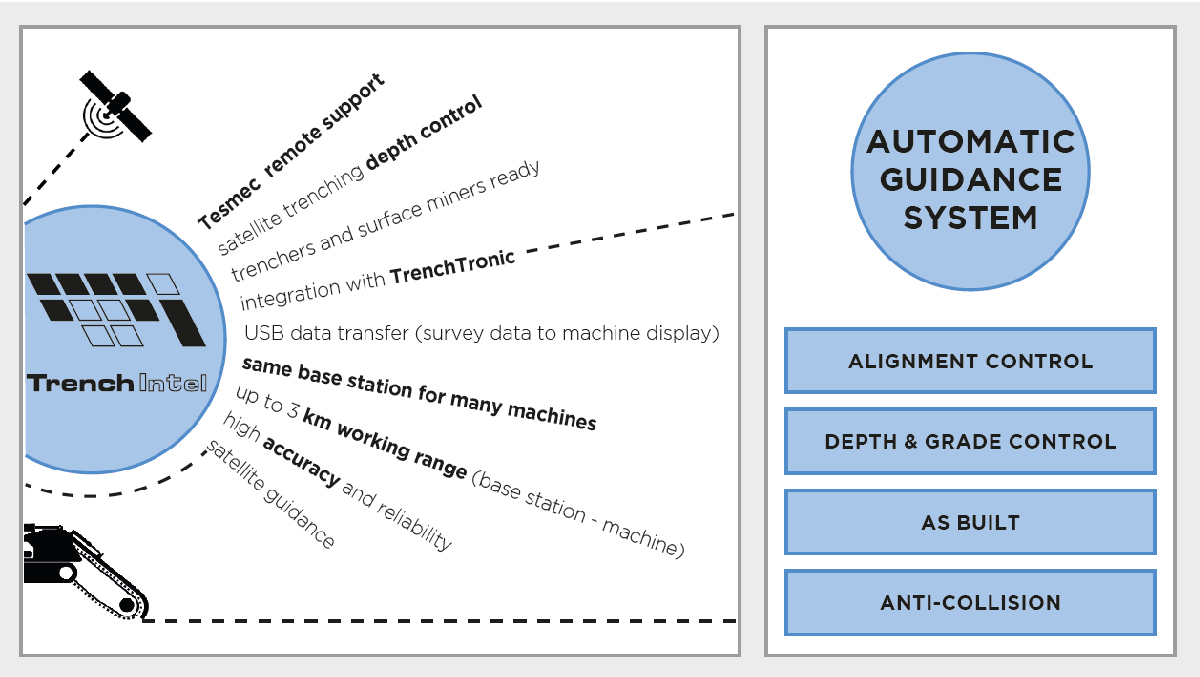 trenchers and surface miners ready, integration with TrenchTronic
digging alignment, depth and grade control
high accuracy and reliability
TrenchIntel is the GNSS automatic guidance system for trenchers and surface miners, based on Topcon RTK technology (Real Time Kinematic) and Topcon 3D-MC platform.
TrenchIntel is able to automatically maintain and control with high accuracy the running line, the appropriate depth and grade, as requested by the project definition, with relevant benefits in jobsite management, machine performance and excavation accuracy.
Differential GNSS technology outperforms many other solutions to control machine alignment and/or digging depth, such as: laser system, stakes, string lines, and other rudimental methods. Based on the project data entered into the system, digging alignment and depth are automatically maintained, avoiding undercut, overcut or even wrong cut, saving customers time and money.
While other technologies (such as laser) and traditional GPS systems simply control depth and grade, Tesmec TrenchIntel has a high level accuracy and is TrenchTronic 5.0 ready. The integration between differential GNSS automatic machine guidance system and TrenchTronic 5.0 electronic control provides full automatic operation capability, alignment control through auto steering included. After a simple pre-set of working parameters and operator initialization the machine is able to execute excavation by itself, so that the operator's task can be simply to survey the progress and check safety issues without stress.
If a map of existing underground utilities is available, it is possible to import it into the system and activate the anti-collision function. TrenchIntel will alert the operator when the trenching tool is approaching an obstacle.
More often construction contracts require as-built drawings (also called record drawing) to document the construction process, showing the exact location of installed underground utilities. TrenchIntel could record position data while the machine is trenching, creating an as-built map in real-time.
Application samples:
Rock Hawg: pass optimization & selective mining, multi-machine control in bulk excavation
Chain saw and Bucket Wheel: realization of straight line, curved line, double-cut and grade
Rocksaw: installation of underground utilities (fiber optic, cables, telecom networks...)